Liu, J.; Ravat, P.; Wagner, M.; Baumgarten, M.; Feng, X.; Müllen, K. Angew. Chem. Int. Ed. 2015, 54, 12442-12446
Contributed by
Steven Bachrach
Reposted from
Computational Organic Chemistry
with permission
Feng, Müller and co-workers have prepared a bistetracene analogue
1
.
1
This molecule displays some interesting features. While a closed shell Kekule structure can be written, a biradical structure results in more closed Clar rings, suggesting that perhaps the molecule is a ground state singlet biradical. The loss of NMR signals with increasing temperature along with an EPR signal that increases with temperature both support the notion of a ground state singlet biradical with a triplet excited state. The EPR measurement suggest as singlet-triplet gap of 3.4 kcal mol
-1
.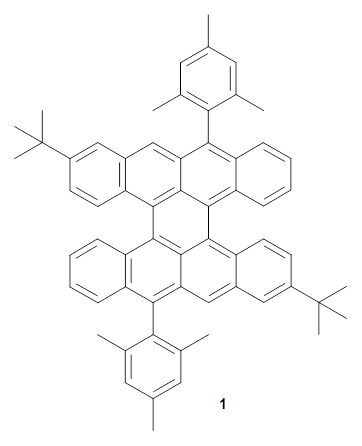 The optimized B3LYP/6-31G(d,p) geometries of the biradical singlet and triplet states are shown in Figure 1. The singlet is lower in energy by 6.7 kcal mol-1. The largest spin densities are on the carbons that carry the lone electron within the diradical-type Kekule structures.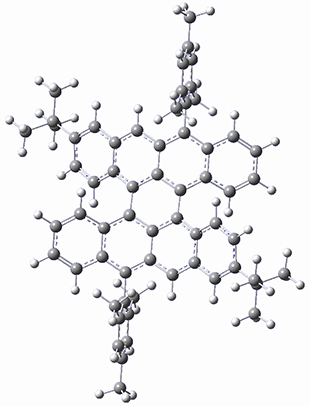 singlet 1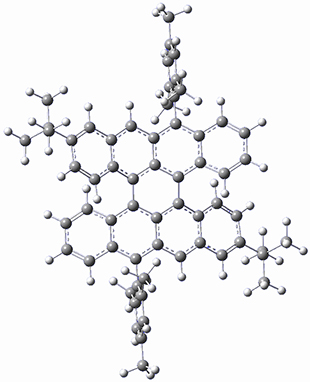 triplet 1
Figure 1. B3LYP/6-31G(d,p) optimized geometries of the biradical singlet and triplet states of 1.


References
(1) Liu, J.; Ravat, P.; Wagner, M.; Baumgarten, M.; Feng, X.; Müllen, K. "Tetrabenzo[a,f,j,o]perylene: A Polycyclic Aromatic Hydrocarbon With An Open-Shell Singlet Biradical Ground State,"
Angew. Chem. Int. Ed.
2015
,
54
, 12442-12446, DOI:
10.1002/anie.201502657
.


InChIs
1: InChI=1S/C62H56/c1-33-25-35(3)51(36(4)26-33)53-45-17-13-15-19-47(45)57-56-44-24-22-42(62(10,11)12)30-40(44)32-50-54(52-37(5)27-34(2)28-38(52)6)46-18-14-16-20-48(46)58(60(50)56)55-43-23-21-41(61(7,8)9)29-39(43)31-49(53)59(55)57/h13-32H,1-12H3
InChIKey=LPRMROONCKWUEJ-UHFFFAOYSA-N
This work is licensed under a
Creative Commons Attribution-NoDerivs 3.0 Unported License
.