Wentrup, C.; Regimbald-Krnel, M. J.; Müller, D.; Comba, P., Angew. Chem. Int. Ed. 2016, 55, 14600-1460
Contributed by
Steven Bacharach
Wentrup and co-workers examined the strained, non-planar aromatic
1
.
1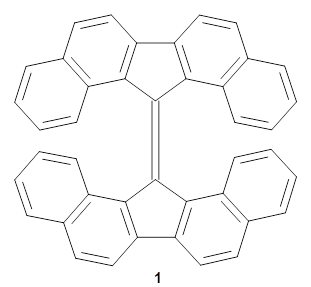 The UKS-BP86-D3BJ/def2-TZVP optimized geometry of the singlet 1 is shown in Figure 1. The molecule is decidedly twisted, with an angle of about 52°. This large twist, weakening the π-bond between the two aromatic fragments, suggests that the triplet state of 1 might be easily accessible. The geometry of 31 is also shown in Figure 1, and the two aromatic portions are orthogonal.
| | |
| --- | --- |
| 11 | 31 |
Figure 1. UKS-BP86-D3BJ/def2-TZVP optimized geometries of 11 and 31.
The proton and 13C NMR studies of 1 show increasing paramagnetism, observed as line broadening, with increasing temperature. Confirming this is ESR which shows increasing signal with increasing temperature. The triplet state is clearly present. The experimental ΔEST=9.6 kcal mol-1 and the computed singlet-triplet gap is 9.3 kcal mol-1. This is in excellent agreement, and much better than previous computations which predict a gap of 3.4 kcal mol-1, but omitted the D3 correction. This dispersion correction stabilizes the singlet state over the triplet state, as might be expected. (The triplet has the two aromatic components orthogonal and so they have minimal dispersion interactions, while the aromatic planes are much closer in the singlet state.)
For comparison, the computed ΔEST of isomer 2 is much larger: 17.9 kcal mol-1. The energies of the triplet states of 1 and 2 are nearly identical. Both of these structures have orthogonal, non-interacting aromatic moieties. However, the energy of 12 with the twist angles of 11 is 8.2 kcal mol-1 lower than that of 11. This the twisting causes a significant strain to the singlet state, but not to the triplet, and that gives rise to its small singlet-triplet gap.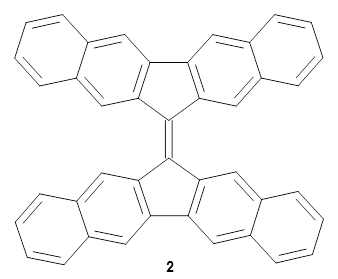 References
1) Wentrup, C.; Regimbald-Krnel, M. J.; Müller, D.; Comba, P., "A Thermally Populated, Perpendicularly Twisted Alkene Triplet Diradical."
Angew. Chem. Int. Ed.
2016,
55
, 14600-14605, DOI:
10.1002/anie.201607415
.


InChIs
1: InChI=1S/C42H24/c1-5-13-29-25(9-1)17-21-33-34-22-18-26-10-2-6-14-30(26)38(34)41(37(29)33)42-39-31-15-7-3-11-27(31)19-23-35(39)36-24-20-28-12-4-8-16-32(28)40(36)42/h1-24H
InChIKey=YEHKZURNXPRJHP-UHFFFAOYSA-N
2: InChI=1S/C42H24/c1-5-13-29-21-37-33(17-25(29)9-1)34-18-26-10-2-6-14-30(26)22-38(34)41(37)42-39-23-31-15-7-3-11-27(31)19-35(39)36-20-28-12-4-8-16-32(28)24-40(36)42/h1-24H
InChIKey=PKXAAFWZKNGAED-UHFFFAOYSA-N
'
This work is licensed under a
Creative Commons Attribution-NoDerivs 3.0 Unported License
.