Abeyratne Kuragama, P. L.; Fronczek, F. R.; Sygula, A. Org. Lett. 2015, ASAP
Contributed by
Steven Bachrach
Reposted from
Computational Organic Chemistry
with permission
Capturing buckyballs involves molecular design based on non-covalent interactions. This poses interesting challenges for both the designer and the computational chemist. The curved surface of the buckyball demands a sequestering agent with a complementary curved surface, likely an aromatic curved surface to facilitate π-π stacking interactions. For the computational chemist, weak interactions, like dispersion and π-π stacking demand special attention, particularly density functionals designed to account for these interactions.
Two very intriguing new buckycatchers were recently prepared in the Sygula lab, and also examined by DFT.
1
Compounds
1
and
2
make use of the scaffold developed by Klärner.
2
In these two buckycatchers, the tongs are corranulenes, providing a curved aromatic surface to match the C
60
and C
70
surface. They differ in the length of the connector unit.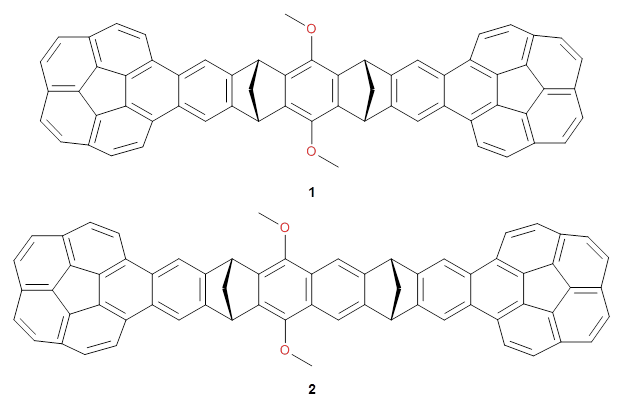 B97-D/TZVP computations of the complex of 1 and 2 with C60 were carried out. The optimized structures are shown in Figure 1. The binding energies (computed at B97-D/QZVP*//B97-D/TZVP) of these two complexes are really quite large. The binding energy for 1:C60 is 33.6 kcal mol-1, comparable to some previous Buckycatchers, but the binding energy of 2:C60 is 50.0 kcal mol-1, larger than any predicted before.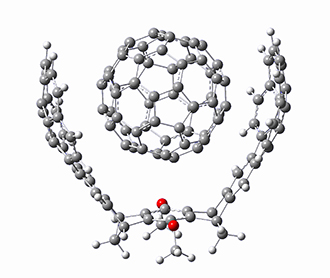 1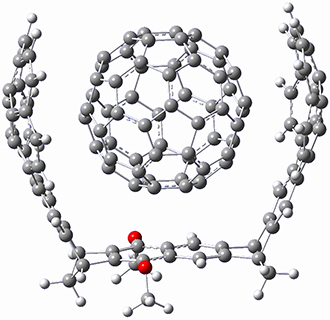 2
Figure 1. B97-D/TZVP optimized geometries of 1:C60and 2:C60.
Measurement of the binding energy using NMR was complicated by a competition for one or two molecules of 2 binding to buckyballs. Nonetheless, the experimental data show 2 binds to C60 and C70more effectively than any previous host. They were also able to obtain a crystal structure of 2:C60.


References
(1) Abeyratne Kuragama, P. L.; Fronczek, F. R.; Sygula, A. "Bis-corannulene Receptors for Fullerenes Based on Klärner's Tethers: Reaching the Affinity Limits,"
Org. Lett.
2015
, ASAP, DOI:
10.1021/acs.orglett.5b02666
.
(2) Klärner, F.-G.; Schrader, T. "Aromatic Interactions by Molecular Tweezers and Clips in Chemical and Biological Systems,"
Acc. Chem. Res.
2013
,
46
, 967-978, DOI:
10.1021/ar300061c
.


InChIs
1: InChI=1S/C62H34O2/c1-63-61-57-43-23-45(41-21-37-33-17-13-29-9-5-25-3-7-27-11-15-31(35(37)19-39(41)43)53-49(27)47(25)51(29)55(33)53)59(57)62(64-2)60-46-24-44(58(60)61)40-20-36-32-16-12-28-8-4-26-6-10-30-14-18-34(38(36)22-42(40)46)56-52(30)48(26)50(28)54(32)56/h3-22,43-46H,23-24H2,1-2H3/t43-,44+,45+,46-
InChIKey=RLOJCVYXCBOUQB-RYSLUOGPSA-N
2: InChI=1S/C66H36O2/c1-67-65-51-24-45-43-23-44(42-20-38-34-16-12-30-8-4-27-3-7-29-11-15-33(37(38)19-41(42)43)59-55(29)53(27)56(30)60(34)59)46(45)25-52(51)66(68-2)64-50-26-49(63(64)65)47-21-39-35-17-13-31-9-5-28-6-10-32-14-18-36(40(39)22-48(47)50)62-58(32)54(28)57(31)61(35)62/h3-22,24-25,43-44,49-50H,23,26H2,1-2H3/t43-,44+,49+,50-
InChIKey=JAUUHTKCNSNBMD-NETXOKAWSA-N
This work is licensed under a
Creative Commons Attribution-NoDerivs 3.0 Unported License
.