Omar, M.; Matsuo, Y.; Maeda, H.; Saito, Y.; Tanaka, T. Org. Lett. 2014, 16, 1378
Here's another nice example of the use of computed NMR spectra to aid in structure identification. Quercusnin A was identified in an extract of dried sapwood from the oak tree
Quercus crispula
. The NMR sectrum along with structural comparison to the previously determined extract vescalagin, led the authors to the structure
1
.
1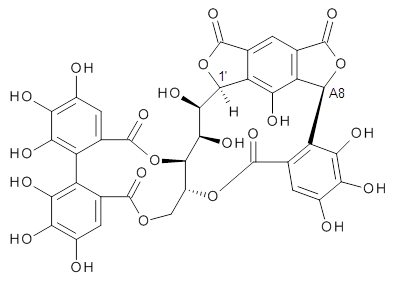 1
To aid in determining the absolute stereochemistry as centers 1' and A8, the authors employed a computational approach. Conformers of the four diastereomers (
RR, RS, SR, SS
) were optimized first with molecular mechanics, then the low energy conformers were reoptimized at AM1, and then finally all of the conformers within 6 kcal mol
-1
of the lowest energy structure were reoptimized at PCM(acetone)/B3LYP/6-31G(d,p). The
1
H and
13
C NMR chemical shifts for all of the structures that contribute greater than 1% to the Boltzmann population were computed at PCM(acetone)mPW1PW91/6-311+G(2d,p)//B3LYP/6-31G(d,p). The DP4 probability (see this
post
) identified the (1'
S
,A8
R
) isomer with 100% probability for matching up with the experimental NMR spectrum. Additionally, the computed ECD spectrum matches nicely with the experimental spectra for this same stereoisomer. The lowest energy conformer of
1
is shown in Figure 1.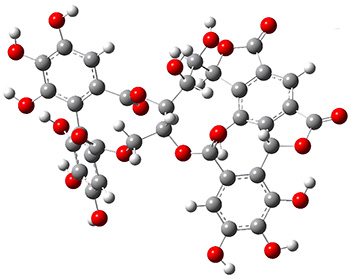 1
Figure 1. PCM(acetone)/B3LYP/6-31G(d,p) structure of the lowest energy conformer of 1.


References
(1) Omar, M.; Matsuo, Y.; Maeda, H.; Saito, Y.; Tanaka, T. "New Metabolites of C-Glycosidic Ellagitannin from Japanese Oak Sapwood,"
Org. Lett.
2014
,
16
, 1378–1381, DOI:
10.1021/ol500146a
.


InChIs
1: InChI=1S/C36H24O22/c37-11-2-8-15(24(44)20(11)40)16-9(3-12(38)21(41)25(16)45)36(53)56-29-14(5-54-32(8)49)55-33(50)10-4-13(39)22(42)26(46)19(10)30-17-6(34(51)57-30)1-7-18(23(17)43)31(58-35(7)52)28(48)27(29)47/h1-4,14,27-31,37-48H,5H2/t14-,27-,28-,29-,30-,31+/m1/s1
InChIKey=PTEZCLBSJBUWFI-LJBUUXJGSA-N
This work is licensed under a
Creative Commons Attribution-NoDerivs 3.0 Unported License
.