Firouzi, R.; Shahbazian, S. ChemPhysChem 2016, 17, 51-54
Contributed by
Steven Bachrach
Reposted from
Computational Organic Chemistry
with permission
Setting the record for the shortest non-bonded H
…
H contact has become an active contest. Following on the report of a contact distance of only 1.47 Å that I blogged about
here
, Firouzi and Shahbazian propose a series of related cage molecules with C-H bonds pointed into their interior.
1
The compounds were optimized with a variety of computational methods, and many of them have H
…
H distances well below that of the previous record. The shortest distance is found in
1
, shown in Figure 1. The H
…
H distance in
1
is predicted to be less than 1.2 Å with a variety of density functionals and moderate basis sets.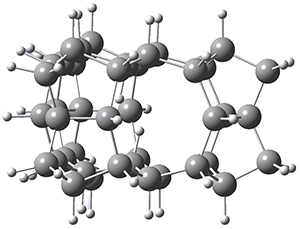 1
Figure 1. Optimized geometry of 1 at ωB97X-D/cc-pVDZ.


References
(1) Firouzi, R.; Shahbazian, S. "Seeking Extremes in Molecular Design: To What Extent May Two "Non-Bonded" Hydrogen Atoms be Squeezed in a Hydrocarbon?,"
ChemPhysChem
2016
,
17
, 51-54, DOI:
10.1002/cphc.201501002
.


InChIs
1: InChI=1S/C41H44/c1-7-13-25-17-9-3-40-5-11-19(35(17)40)27-15-8-2-39(1,33(13)15)34-14(7)26-18-10-4-41-6-12-20(36(18)41)28(16(8)34)32(27)30-23(11)37(40)21(9)29(31(25)26)22(10)38(41)24(12)30/h7-38H,1-6H2
InChIKey=DMWSEJFKSWCSLI-UHFFFAOYSA-N
This work is licensed under a
Creative Commons Attribution-NoDerivs 3.0 Unported License
.