Brown, A. R.; Uyeda, C.; Brotherton, C. A.; Jacobsen, E. N. J. Am. Chem. Soc. 2013, 135, 6747
Contributed by
Steven Bachrach
.
Reposted from
Computational Organic Chemistry
with permission
Jacobsen reports on another application of thiourea-based organocatalysts, this time for the catalysis of hydroamination.
1
To support the synthetic effort, he examined the uncatalyzed intramolecular hydroamination that takes
1
, through
TS1
into product
2
. The geometry of
TS1
optimized at B3LYP/6-31+G(d,p) is shown in Figure 1. The computed barrier for this reaction is 22.2 kcal mol
-1
. Using a model thiourea as the catalyst (MeHN)
2
C=S,
3
), Jacobsen locates a catalyzed transition state
TS2
shown in Figure 1. The activation barrier for this catalyzed reaction is 19.1 kcal mol
-1
, suggesting that a thiourea can afford a real catalytic effect.

| | |
| --- | --- |
| TS1 | TS2 |
Figure 1. B3LYP/6-31+G(d,p) optimized geometries of TS1 and TS2(the catalyzed transition state).
Jacobsen then goes on to show that 4 can act as both an excellent catalyst for the hydroamination reaction along with inducing significant enantioselectivity. An example is Reaction 1, where 10 mol% of catalyst 3 gives an overall yield of 83% and an ee of 91%, while in the absence of catalyst the yield is only 8%.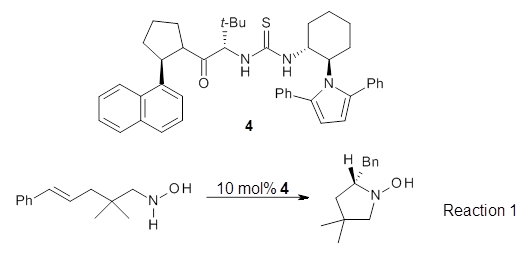 References
(1) Brown, A. R.; Uyeda, C.; Brotherton, C. A.; Jacobsen, E. N. "Enantioselective Thiourea-Catalyzed Intramolecular Cope-Type Hydroamination,"
J. Am. Chem. Soc.
2013
,
135
, 6747-6749, DOI:
10.1021/ja402893z
.
InChIs
1: InChI=1S/C5H11NO/c1-2-3-4-5-6-7/h2,6-7H,1,3-5H2
InChIKey=JUMXQRNWLGIKEI-UHFFFAOYSA-N
2: InChI=1S/C5H11NO/c1-5-3-2-4-6(5)7/h5,7H,2-4H2,1H3
InChIKey=YVBPNYXAQNAMLH-UHFFFAOYSA-N
3: InChI=1S/C3H8N2S/c1-4-3(6)5-2/h1-2H3,(H2,4,5,6)
InChIKey=VLCDUOXHFNUCKK-UHFFFAOYSA-N
4: InChI=1S/C44H49N3OS/c1-44(2,3)42(41(48)36-25-15-24-35(36)34-23-14-21-30-16-10-11-22-33(30)34)46-43(49)45-37-26-12-13-27-40(37)47-38(31-17-6-4-7-18-31)28-29-39(47)32-19-8-5-9-20-32/h4-11,14,16-23,28-29,35-37,40,42H,12-13,15,24-27H2,1-3H3,(H2,45,46,49)/t35-,36?,37-,40-,42-/m1/s1
InChIKey=OJMZMPGOFWBKAF-FDGFXIECSA-N