Bermúdez, C.; Mata, S.; Cabezas, C.; Alonso, J. L. Angew. Chem. Int. Ed. 2014, 53, 11015-11018
Contributed by
Steven Bachrach
.
Reposted from
Computational Organic Chemistry
with permission
The Alonso group has yet again (see
these posts
) determined the gas-phase structure of an important, biologically significant molecule using a combination of exquisite microwave spectroscopy and quantum computations. This time they examine the structure of histidine.
1
They optimized four conformations of histidine, as its neutral tautomer, at MP2/6-311++G(d,p). These are schematically drawn in Figure 1. Conformer 1a is the lowest in free energy, likely due to the two internal hydrogen bonds. Its structure is shown in Figure 2.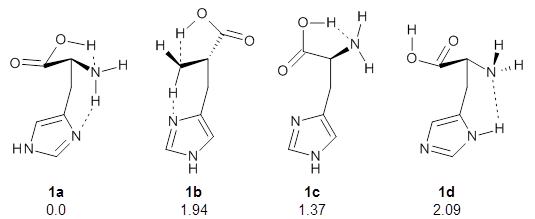 Figure 1. The four conformers of histidine. The relative free energy (MP2/6-311++G(d,p)) in kcal mol-1are also indicated.
Figure 2. MP2/6-311++G(d,p) optimized geometry of 1a.
The initial experimental rotation constants were only able to eliminate 1b from consideration. So they then determined the quadrupole coupling constants for the 14N nuclei. These values strongly implicated 1a as the only structure in the gas phase. The agreement between the experimental values and the computed values at MP2/6-311++G(d,p) was a concern, so they rotated the amine group to try to match the experimental values. This lead to a change in the NHCC dihedral value of -16° to -23° Reoptimization of the structure at MP2/cc-pVTZ led to a dihedral of -21° and overall excellent agreement between the experimental spectral parameters and the computed values.
It is somewhat disappointing the supporting materials does not include the structures of the other three isomers, nor the optimized geometry at MP2/cc-pVTZ.
References
1) Bermúdez, C.; Mata, S.; Cabezas, C.; Alonso, J. L. "Tautomerism in Neutral Histidine,"
Angew. Chem. Int. Ed.
2014
,
53
, 11015-11018, DOI:
10.1002/anie.201405347
.
InChIs
Histidine: InChI=1S/C6H9N3O2/c7-5(6(10)11)1-4-2-8-3-9-4/h2-3,5H,1,7H2,(H,8,9)(H,10,11)/t5-/m0/s1
InChIKey=HNDVDQJCIGZPNO-YFKPBYRVSA-N
This work is licensed under a
Creative Commons Attribution-NoDerivs 3.0 Unported License
.